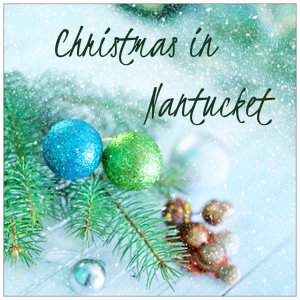 There are many whose hearts are captured after just one visit to Nantucket. The summer brings those looking to stroll through the cobblestone streets, go sailing, relax on the beautiful beaches, and enjoy waterside dining. But winter is a different story as the crowds dwindle and a peaceful ambiance fills the air. The windswept shores are quiet, the shops are festive and beautifully decorated for the holidays, and the fireplaces crackle in the restaurants open for the season. A winter weekend in Nantucket is a wonderful time to unplug, relax and take a breather from the busyness. The annual Christmas Stroll and Yuletide Fair are two great reasons to make your way here this holiday season.
The Christmas Stroll Weekend is truly and enchanting time and a favorite among locals and visitors. The island is transformed and filled with holiday magic. Enjoy the Christmas Marketplace where you can find all sorts of foods and crafts from local businesses. There are activities happening all around town including a scavenger hunt, guided walkabouts, cookie decorating, art show, wine tastings, live music, holiday open houses, a magical talking tree at the top of Main Street and of course a visit by Santa courtesy of the Coast Guard. The Christmas Stroll Weekend will be held December 1-3, 2017.
The Yuletide Fair will be taking place December 9th, 2017 from 10am – 2pm at the White Elephant Village Ballroom. This fair has been taking place for almost 20 years and is the perfect chance to check off all of the holiday gifts on your list this year. Local Nantucket artisans will have works of art on display, there is a holiday Bake Shop with delicious goodies, a variety of unique handcrafted items and gifts, live entertainment, and more. It is a community favorite and definitely something to check out during your time here.
You can relax in comfort and style at our seaside inn. All of our suites have cozy fireplaces, luxurious robes, beds that will melt your worries away, deluxe bath products, and complimentary chocolate-covered cranberries and chocolate-chip toffee cookies. Come and enjoy a memorable holiday getaway in Nantucket. You can book your room online today or feel free to contact us anytime for help planning the perfect vacation. Don't forget—if you need something perfect for that special someone in your life, a gift certificate for a stay at our inn would be a wonderful idea! Email us at innkeeper@sevenseastreetinn.com for more information.