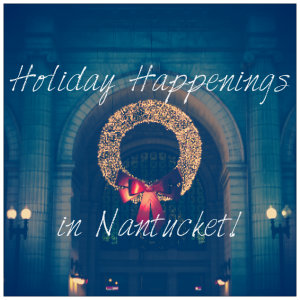 It seems like there is always a calm before the storm between all of the holidays throughout the year. Once we get through the fun but busy summer season, you might have a bit of downtime before the hoopla of Christmas hits. Can we let you in on a little secret? Right now is the best time to come visit the amazing area of Nantucket that we get to call home. Many often think everything here shuts down with Nantucket being so seasonal but on the contrary! There are many restaurants and shops that stay open and different activities and events to enjoy.
You can start by getting into the holiday spirit at the Annual Festival of Wreaths. Put on every year by the National Historical Association, this festival is a great kick off to the holiday season. See beautifully crafted wreaths on display and even bid on your favorite one in a silent auction. There is a preview November 20th and then the exhibit will be open November 21st-25th.
If you are up for an adventure, albeit a chilly one, come participate in this year's 18th Annual Thanksgiving Cold Turkey Plunge! In recent years this event has raised more than $100,000 for the Weezie Library for Children. Come be a part of this very fun and popular local event happening November 22nd. The following night, November 23rd you can warm up with a delicious cup of hot chocolate at the Chamber's Annual Tree Lighting and Community Caroling. Join in with the locals and other visitors as Main Street comes alive with holiday magic as over 100 trees are lit for the season. Then we have the Festival of Trees and the Christmas Stroll at the end of November…it just keeps getting better!
We would love to host you for a fall getaway. Take a break from the norm and some time for yourself to relax and unwind and enjoy this beautiful season. You can book with just a click through our online reservation system and feel free to contact us anytime for more information or if we can help plan your next memorable getaway to Nantucket.