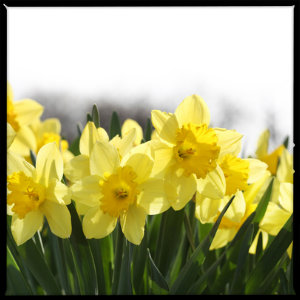 As the winter weather breaks, many are on the lookout for the first signs of spring and you are sure to find some soon here on Nantucket Island! Sure signs here on the island include early morning chatter from the northern cardinals and black-capped chickadee, spotted turtles coming out of hibernation, blooms on the beaked hazelnuts, and the arrival of the shorebirds and horseshoe crabs. Another sign of spring is the blooming of over three million daffodils of every hue; shape and size that paint a landscape of bright color across the island.
The Nantucket Daffodil Weekend brings in a huge crowd every year as the island comes alive with a community Tailgate Picnic, Antique Car Parade, and much more. Celebrating it's 41st birthday, this annual event will be taking place April 29-May 1, 2016. We thought it would be great to give you some history of this event and how the island has come to be covered in daffodils every year.
From March through May, daffodils in pink, yellow, white, and orange burst across the landscape and are the most recognizable sign of spring-bringing longer days and warmer temperatures. The festival dates back to 1974 when a late summer resident named Jean MacAusland had a vision for an on-island daffodil show and encouraged the Nantucket Garden Club to pair up with the American Daffodil Society. The first event took place in 1975 and MacAusland donated thousands of bulbs and the community pitched in and ended up planting over 1 million bulbs across the island.
If you are a gardener at heart, daffodils are a very rewarding bulb to plant as they bloom reliably every year and because they are actually poisonous, they are resistant to being eaten by deer and other rodents. There are many varieties that differ in color, blooming season, and even fragrance. Since bulbs are best planted in the fall, you have a long wait to see the fruits of your labor but it will be worth it!
If you happen to be visiting the island during the festival be sure to check out the limited edition "Daffy" merchandise. You can get commemorative pins, sunglasses, beach tote bags, ornaments, baseball caps, and more. We have an exciting new accolade to share with you too! National Geographic has given Nantucket the #1 spot in their list for Best Islands in the World. What an honor to get such recognition! Here's to the arrival of spring – it's going to be a beautiful one on Nantucket!