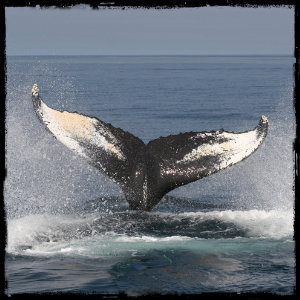 If you are unfamiliar with Nantucket, it is a beautiful island about 30 miles south of Cape Cod. It has long been a very popular summer destination spot for visitors who come in for the day and seasonal residents who call it home for a few months. It is a classic New England seaport town that offers an abundance of things to do during the summer. Being surrounded by pristine waters, a highlight for many is taking part in a whale watching tour with Shearwater Excursions.
Shearwater Excursions is a wonderful, family run company that got started in 1999. Shearwater birds are often spotted from the boat tours and it happens to be Captain Blair's favorite bird, hence the name of the company. They are dedicated to providing exciting, adventurous, and safe outings for people of any age. The whale watching tour however, is one of their most popular choices and one that will make your time on Nantucket one you won't forget!
The Nantucket Whale Watch tours start June 21 and will run through October 15, 2016. It is a 6-hour off shore excursion that costs $165 per person and is worth every penny. Much of the pristine nature that Nantucket has to offer can only be seen by boat so this trip will give you a perspective you just cannot get from being on land. You will learn how to spot the spout of a whale and will see Humpback, Finback, and Minke Whales, plus Basking Sharks, White Sided Dolphins, Sea Turtles, and a myriad of Pelagic birds. Captain Blair Perkins knows exactly where to go to get the best whale viewing and he has so much knowledge about whales and other marine life that he shares along the way. Their company is a member of Whale Sense, which promotes whale conservation and responsible whale watching.
There is a private bathroom on board and snacks and beverages available to purchase. They encourage visitors to bring a lunch, camera, binoculars, camera, warmer clothes for breezy days, and sun protection. It is such a thrill to see whales spouting, breaching, and diving as they feed in the waters. You'll have a wonderful adventure! Our inn nearby is the perfect place to call home during your time on the island—our property and rooms are private and quiet yet we are close to everything should you want to go out and explore. Book online today or contact us for further information—don't let summer pass you by without a memorable trip to Nantucket!