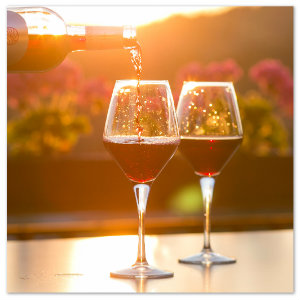 Do you remember being told that an apple a day will keep the doctor away? This proverbial piece of advice came on the scene 150 years ago and is a simple claim that enjoying fruits and vegetables promotes health. There are also certain antioxidants in red wine that may help prevent coronary heart disease and heart attacks. It is for both of these reasons that it would be good for you all around to come over to Nantucket for the 2017 Wine & Food Festival!
The Nantucket Food & Wine Festival has been going strong for 21 years and is one of most popular and anticipated food and wine events in the country. Renowned chefs and wine & food enthusiasts converge right here on the island of Nantucket to get the chance to be involved in a series of prestigious events. This year it will be taking place May 17-21, 2017 and this 5-day extravaganza is one you do not want to miss.
While you may not call yourself a wine connoisseur, this festival offers some incredible events that we know you'll enjoy. The entire festival kicks off with an opening reception and then for the remainder of the time you can choose between a myriad of events happening all over Nantucket. Some of the highlights include:
TOPPER'S Wine Luncheon – Vive La France!
Donelan Family Wines – A Nantucket Islander Tasting
Harbor Gala
"Rosé S'il Vous Plait" Brunch
Le Grand Fromage: Cheese Seminar with L'Espalier's Louis Risoli
Island Hopping with Chefs Jose Enrique & Michael Scelfo
LOBSTA AND BUBBLES – Champagne et la Mer
And many, many more!
It's the perfect time of year for a getaway and this festival truly offers something for everyone. We can help you plan the perfect vacation tailored to your needs and interests—book online today or contact us for further information about our inn or the gorgeous area we call home.