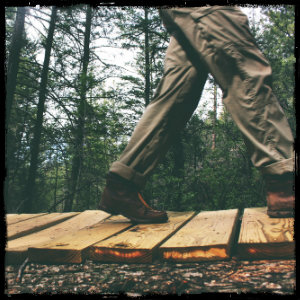 "Of all the paths you take in life, make sure a few of them are dirt."
                                                                                                            – John Muir
The author of the quote above, John Muir, was a Scottish-American naturalist who dedicated his life to advocating for the preservation of wilderness. His efforts alone helped to preserve the Yosemite Valley and the Sequoia National Park among others. He knew the power of the great outdoors! It is no different here in Nantucket—a place where you can find unforgettable adventures. With 82 miles of coastline, beautiful dunes, incredible history, a charming local scene and friendly people, it's no wonder our guests return year after year. There is truly a never-ending list of things to do here but today we are highlighting something that will get you out and enjoying all that Mother Nature has to offer. Check out a guided wilderness hike with Nantucket Walkabout!
Nantucket Walkabout has top ratings on travel sites such as Trip Advisor by people from all over the world. They are a year round guided hiking company that offers visitors natural history walks all over the island of Nantucket. This is not your typical get on/get off a bus type of tour. These are tours where you get to fully immerse into the beauty of the island. Learn about birds, geology, botany, history, and conservation along the way.
They offer seven different hikes, each offering unique spots to explore. Try the Sankaty Bluff, Smooth Hummocks, Gardner Farm, or Shawkemo Hills trails to name just a few. The hikes are $40 for adults and $20 for children. They cover a distance of one to four-and-a-half miles and last one to three hours. The hikes are not arduous and suitable for anyone in reasonable condition You'll want to wear some good hiking shoes, appropriate clothing for the weather that day, camera, sunscreen, water and a light snack.
After a day of adventuring you can come back and relax at our island vacation home, shop the boutique stores, watch the sailboats from the beach or eat at one of the many area restaurants. Summer is waiting—book your getaway online today or contact us anytime for further information.