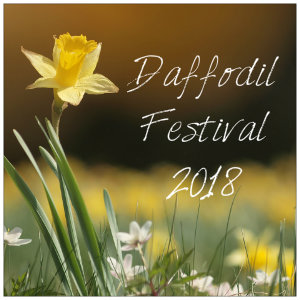 Have you ever heard the term, "winter doldrums?" It's a real thing—at this time of year many of us feel a bit "blah." The days are shorter and colder, the sun seems to hide more than it shines, and it can really have an impact on your mood and energy level. In addition to eating healthy, exercising, and finishing to-do lists, experts say planning something to look forward to is a great way to get through the winter blues! Well, we have the perfect event to create some anticipation for you: the 2018 Nantucket Daffodil Festival.
This will be the 44th year for the Daffodil Festival and it will be taking place April 27-29, 2018. We tend to book up quick for this event so you'll want to snag your favorite room as soon as you are done reading this blog! This festival is a true kick off to spring and a way to pay homage to the blooming flowers on the island. See more than three million daffodils of all kinds in gardens, in window boxes and along roadsides. It's an incredibly fun weekend as locals and visitors alike arrive on the scene to take in all that will be going on. There is a whole host of events happening all day long each day but below we've listed just a few to get you excited.
Sampling of Daffodil Festival Events:
Men's Breakfast
Nantucket Walkabout Hike
Scavenger Hunt
Weekend Sales
Photography Workshops
Brunches, Lunch Specials
Live Performances
Lighthouse Tour
Antique Car Parade (100+ vintage cars and motorcycles)
Children's Parade
Bake sales
Beach Picnics
Tailgate Parties
Daffodil Flower Show
You will not want to miss this highlight event of the season. Come and celebrate the arrival of spring with us and enjoy a fabulous weekend in Nantucket! Book online today or feel free to contact us anytime with questions about our inn, the area or events like this.