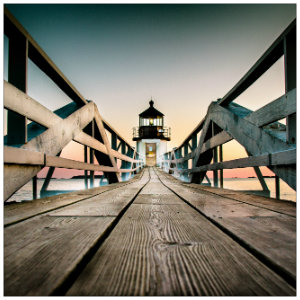 Can you say that your summer has been well spent? We've had an amazing summer here on the island at our beautiful inn. We've seen old friends, met new ones and have had a ton of fun along the way. If you have not had a chance to get to Nantucket yet this summer, you are officially invited to come stay with us! The first day of fall this year is not until September 22nd so you have all kinds of time to squeeze in an end of summer getaway. If you are wondering what you would do here we've got a simple itinerary today on a great way to spend a summer day.
Spend a Summer day in Nantucket
Our first suggestion is to check out the Brant Point Lighthouse. Located right near Jetties Beach, this lighthouse is the second oldest lighthouse in the country and an iconic landmark here on the island. It was established in 1746, and after multiple fires, being knocked over by gales, damaged by storms, and renovated twice, it still stands in operation today. The view of the beach from the front of the lighthouse is stunning and you can watch all of the boats come in and out of the harbor. It's a great spot for a memorable photo so don't forget your camera!
After your lighthouse visit, why not take some time to get out on the water! A relaxing and scenic cruise is a fantastic way to spend an afternoon.The Endeavor, the longest operating sailing charter on Nantucket, offers great excursions for any occasion. Captain James will show you sights along the waterfront and share his vast maritime history along the way. There are several daily departure times and an evening sunset trip that is simply fantastic. The fares for the 1 ½ hour sails are very reasonable and you can customize your trip as you wish or even opt for a private charter.
After your sailing cruise or before a sunset trip, we encourage you to dine at one of the amazing local restaurants we have here. We are very much spoiled here with dining options—with most restaurants being led by highly acclaimed and/or award-winning chefs. Some of our favorite fine dining options include Oran Mor, Dune, Seagrille, or Straight Warf. You can visit each restaurant, pick your favorite menu and enjoy! We'd be happy to set up a reservation for you so all you have to do after your sailing cruise is show up for an amazing meal.
The end of summer often brings quieter pace as crowds dwindle and life slows down a bit—making it the perfect time for a getaway to Nantucket. Book online today or contact us anytime for further information about our inn or the very special place we get to call home.