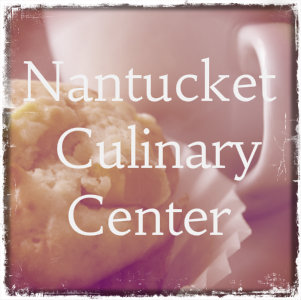 On our small island off Cape Cod we are blessed to have an abundance of incredible restaurants. In fact in December 2015, Travel + Leisure gave Nantucket the #1 spot in their list of the World's Best Islands For Food. Guests who come and stay at our bed and breakfast rave about their dining experiences here on the island and we wanted to tell you about a fantastic new place called the Nantucket Culinary Center.
The Nantucket Culinary Center is located a short 3 minute walk from Seven Sea Street Inn, housed in a beautiful new building at the corner of Federal and Broad. This unique place is home to the Corner Table Café, the heart of the center, and in addition offers some superb cooking classes, supper clubs, and various demonstrations that happen year round.
Owners Greg and Joy Margolis have a true passion for crafting delectable foods and with a long history in fine dining, they bring a mixture of state of the art techniques, high quality ingredients, and creativity. Even with great attention to detail and producing refined dishes, they are dedicated to creating a warm, inviting atmosphere where the food is simple and you feel like family gathered together. Greg's recipes are always evolving as he partners with local farmers for the freshest produce that is harvested. The soups at the café are favorite choices for many, particularly the Green Chili if you are looking to try something new. They have delicious jar salads in their "grab and go" cooler and on a cool day we highly encourage you to try the hot chocolate made with their own homemade marshmallow. Delicious!
We have many guests that come for a mid-week stay, making the center's Tuesday Night Dinners a perfect outing during your time here. Enjoy a four or five course meal paired with beers and wines personally chosen by Greg. It is a one-of-a-kind dining experience we know you will enjoy. If you are here for a weekend getaway, they often offer enjoyable, hands-on cooking classes on Saturdays that you can check out. They keep their website updated regularly with upcoming classes.
Whether you want to pop in for a delicious cup of coffee, a grab-and-go salad and soup, class, or special dinner this culinary center is a place to try. We have so much happening on the island, it is always a good time to come and visit—book a mid-week or weekend getaway online today.