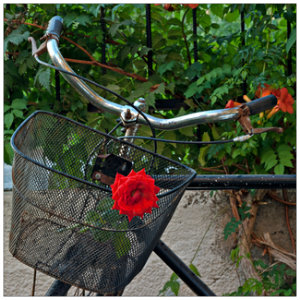 They say you need to stop and smell the roses once in awhile but what about bike and smell the roses instead? One of the best ways to enjoy the beautiful scenery (and the gorgeous blooming roses!) here on Nantucket Island is to get out and enjoy the great outdoors on a bicycle tour! Nantucket Bike Tours is the way to go and we've got all of the details below that you need to plan a fantastic day!
At the helm of Nantucket Bike tours are guides Jason Bridges and Courtney Nemeth, who have years of experience and a real passion for the island. They are experts at finding hidden gems to see and have all sorts of stories and tales to share. They have designed four different tours to choose from, each varying in length, difficulty, place of travel. The Family Adventure is a 3-mile easy ride that will show you the best places and views that Nantucket has to offer. To the Brewery! is a more difficult 8-mile ride that will show you some highlights in the area and a final stop at Cisco Brewery where you can enjoy some live music and local brews. Town View is an easy 5-mile ride that will take you around 7 different local hot spots and you might learn a secret or two. Finally, their Spin to Sconset tour is a moderate 17-mile ride where you will get to explore the outskirts of town a bit. You'll see some exclusive beaches, the famous Sankaty Lighthouse, cranberry bogs, Sconset Bluff, Cod Fish Park, and more. You can visit their website for rates, hours, and any other information you may need to plan a perfect day bike riding around the island.
Now back to the topic of gorgeous, blooming roses! On Nantucket, all you have to do is take a bike ride or stroll through Sconset village in June or early July to see one beautiful rose-covered cottage after the next. You will simply be in awe of the beauty and sweet aroma. The New Dawn climbing roses are at the heart of the rose culture on the island and they are the most popular in Sconset – they climb right up the cottages, often up to the roof ridge. But those aren't the only ones around—you will find a wide array blooms all over town in all kinds of colors. A local favorite is the pink salt spray rose, which in addition to being a beautiful addition to a garden, also makes a delicious jelly.
Taking a tour with Nantucket Bike Tours will show you the top highlights in the area with the bonus of seeing the stunning roses in bloom should you be coming to the area this June and July. It is worth a trip so whether you are a returning guest or have never been here before, we would love to host you at our island-vacation bed and breakfast. Book a room online today or contact us for further information. Hope to see you soon!