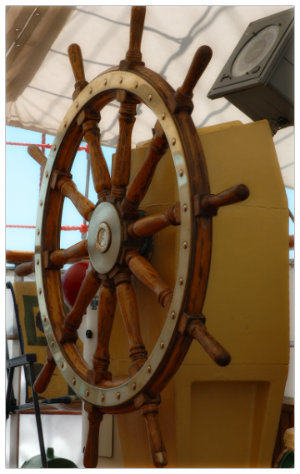 Nothing beats spending the day on the water during a sunny Nantucket day. The island offers opportunities for fishing, boating, whale watching, kayaking, parasailing, paddle boarding, waterskiing, tubing, surfing, snorkeling, and more. There's an endless list of things to do for the whole family. There's just something about being out on the water that is revitalizing and peaceful and the best way to see the beautiful Nantucket shoreline is from the sea and the best way to do that is on a trip with Endeavor Sailing Tours!
The Endeavor, a 31-foot Friendship Sloop docked at slip #1015 on Straight Warf, is Nantucket's longest operating sailing charter. At the helm of this gorgeous vessel is Captain Jim Genthner, who is licensed by the United States Coast Guard and has over 30 years experience navigating the waters around Nantucket. Captain Jim is just great—he is hospitable, professional, knowledgeable and entertaining. He will answer all of your questions along the way and will encourage you to help with the sails and "lower the boom." He knows the island so well and has great maritime historical details and stories to share along the tour of the coast.
Their sailing cruises run daily from May to October and they will help you decide on which cruise and time will best fit your family, depending on how many are in your party and what type of cruise you are looking for. They offer private romantic charters and sunset sails as well. You can bring your own wine and cheese or snacks and drinks of choice to enjoy as you sail around the pristine waters of Nantucket. You can even sit on the side of the deck and dip your feet in the water and you want to be on the lookout as they often get surprise sighting of whales or seals along the way
These tours are a great way to spend a couple of hours on a sunny day–it is a memory making experience that will make your time on Nantucket Island that much sweeter. If you are looking to plan a last minute end-of-summer getaway or a fall retreat to Nantucket, you can book directly online today or feel free to contact us anytime for further information. Look forward to seeing you soon at our little piece of heaven on earth!