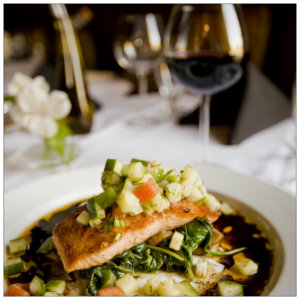 Restaurant Week is soon to hit Nantucket and this is one dining extravaganza you do not want to miss! It's the perfect time to come visit our bed and breakfast on the island and enjoy a few nights out at some of the most fabulous and fun dining hotspots. This year this culinary celebration will be taking place September 26 through October 2, 2016.
Nantucket Restaurant Week, which happens twice a year in the spring and fall, is truly a celebration of the exceptional culinary traditions found in Nantucket. Over the course of the week, dozens of island restaurants will be pulling out all of the stops to offer guests special menu items and creative prix fixe menus. Our most highly acclaimed restaurants will be offering 3-5 course dinners ranging in price from $35-$45. For many restaurants, given the exceptional quality of dishes on their menus, this pricing is amazing. It is a great opportunity to try something new, expand your culinary horizons, or simply enjoy your old favorites. You'll find that no matter where you go here on the island, you'll be treated as a VIP guest—welcomed like a family member and offered incredible hospitality. It is one of the reasons we love it here and why so many guests come back year after year!
Now it can be hard to choose between so many delicious dining options here but we've got the inside scoop on some of our favorite spots on the island. If you'd like more specific recommendations, we can help you create a dining itinerary that is sure to make your time here during restaurant week one you won't forget! Restaurant Week is an event not to be missed and we look forward to hosting you at our inn—offering you tranquil, seaside ambiance and private, cozy accommodations. Book online today or contact us for further information.