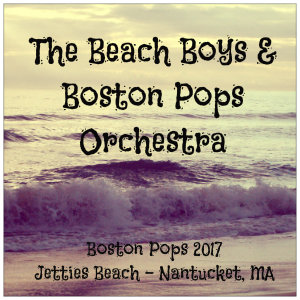 Are you ready for the top summer concert event in Nantucket? If you have not made plans to be here for the Boston Pops 2017 event, there is still time to book your room and get your calendar cleared. It's happening August 12th and is simply the must see event of the season! The one and only, Rock and Roll Hall of Fame band, The Beach Boys will be here! Grab your favorite friends or family members, pack your suitcases and plan to be in Nantucket for this event—it will be one for the books.
The Boston Pops concert is now in its 21st year and is consistently the highlight of the summer for guests and residents of the island. This annual event is the main fundraiser for the Nantucket Cottage Hospital. As thousands of people come in to Jetties Beach for this amazing musical extravaganza, more than $2 million is raised each and every year, which greatly supports the hospital and its programs.
The Beach Boys will be putting on the kind of show we have all come to expect—full of fun and songs that have become our summer favorites. They will be joining conductor Keith Lockhart and the Boston Pops Esplanade Orchestra. This is going to be an amazing night of music, dancing, fireworks—all taking place on a breathtakingly scenic beach.
Tickets are $30 for adults and $10 for children aged 5-12. The general admission gates will open at 4:30 and the event will start at 7pm. Tickets are available by clicking here. Jetties Beach is less than a mile away from us, making our inn the perfect choice for accommodations while attending this event. We'd love to have you join us and experience all that this beautiful area has to offer—book online today or contact us anytime for further information.