Nantucket summers are simply amazing—the weather is awesome, the area is buzzing with activity and there is something to do at every turn. Once the season starts to turn and the Indian summer arrives, some might argue it's an even better time to come! The crowds dwindle a bit and the temperatures are still perfect for laying on the beach, going biking, and boating. A lot of the island's popular places still have their doors open and there are some great festivals and events to catch. There are some great fishing tournaments and other fall activities that are great reasons to come spend some time here this fall.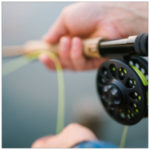 We all know how the story goes when it comes to fishing as the ending often involves, "and it was this big!" Check out the following fishing events that are sure to bring the best of the best to the island and those who just want to have some fishing fun.
Bluefin Blast – Taking place September 10-11, 2022, the Bluefin Blast is a thrilling tournament on Nantucket's waters. There is a catch and release format for this event to protect the sought after Bluefin tuna. Check out their website for all details of getting in on this great event.
Nantucket Slam – Just a couple days later from September 11-13, 2022, the Nantucket Slam will be taking place supporting the Cure for Cystic Fibrosis. This fishing tournament is for recreational and experienced anglers and there are three categories from which to choose: fly, spin/plug, and trolling. It is also a catch and release event. Find important details on the event website link above.
If you happen to be looking for a romantic getaway, don't forget to check out our special add-ons for the ultimate romantic experience! You can book your favorite room online right now or contact us anytime if you need help planning the perfect Nantucket vacation.
Updated September 2022.