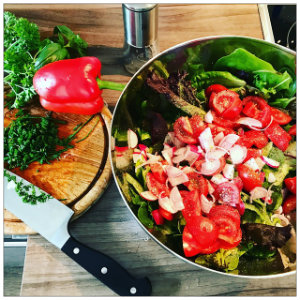 The mission behind the Nantucket Culinary Center is, "Good food, served simply and cleanly," and chef Greg Margolis and his wife Joy have stayed true to that since opening day. The center, which has become a cornerstone spot in downtown Nantucket, not only offers exceptional food in their in-house Corner Table Café but also some really fun cooking classes and other events.  We wanted to share a few upcoming highlights for those who might be drawn into coming our way for a "beat the winter blues" or early spring getaway.
The Nantucket Culinary Center is a stunning venue with a state of the art cooking facility in which they host their events and cooking classes. In the cooking classes, Chef Margolis is genuine and charismatic and combined with a friendly bunch of people ready and willing to learn some new things, it all makes for a memorable night out.
Upcoming Events:
Every Tuesday is Trivia Night at the Center
March 8th – Open Mic with David Hayes
March 9th – Dinner Demo: Indian Cuisine with Chef Greg
March 9th & Aril 6th – Culinary Weekend with special dinner, classes & brunch
March 10th – Hands on Cooking Class: Culinary Basics
March 11th & April 8th – Pop In for a Pop Over: Class & Buffet
April 28th – A Daffodil Wine Dinner with Chef Greg and Sommelier Camille Broderick
Right now is a wonderful time to visit our breathtaking area. Explore the beaches, visit the lighthouses, take a hike, visit a museum, or just stroll the cobblestone streets of downtown that are lined with many amazing restaurants and charming boutiques. We can help you plan the perfect retreat—book online today and contact us anytime for more information.