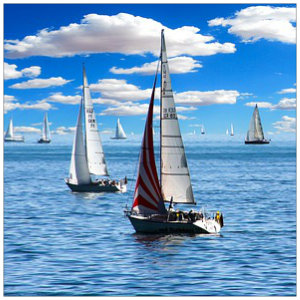 Thinking of heading to Nantucket for Memorial Day? We would love to have you! This weekend pretty much kicks off the summer season and what better way to do this than with a special getaway to Nantucket.
From May 25-28, this island is certainly going to be getting into celebration mode with the annual and very popular Figawi Race. This Cape Cod tradition started in 1972 when four sailors raced their sailboats from Hyannis to Nantucket. These friends had so much fun with their families and crew that their little race became an annual trip across Nantucket Sound.
It wasn't long before other sailors started to join in, a race committee was formed, and the well-known Figawi Race morphed from a one-day race into a three-day weekend event. In 1987, organizers of the race wanted to find a way to give back to their community so the Charity Ball was created. This event has now become the premier social event of the season on Nantucket, bringing in over 1200 people to fundraise for local charities. The race itself has also become one of the premier racing events on the east coast and we highly encourage you to come visit to see this competitive sailing regatta.
There is a kick off party at Hyannis Yacht Club on Friday, May 25th and then the race officially begins at 10am Saturday morning. The rest of the weekend you can stroll around downtown, check out the local shops and restaurant or hang around the Nantucket Boat Basin. On Sunday high school sailing teams from across the Cape and Islands take to the water competing for the coveted Figawi Jr. Trophy. That is a fun race to watch too!
You can find out all of the important details about this event on their website. Pretty soon our little "slice of heaven" here is going to be bustling with activity and you need to be a part of it. Plan now for a memorable spring or summer vacation to Nantucket – you do not want to miss out!