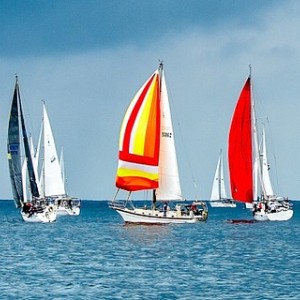 Do you ever find yourself daydreaming about being at a place where the weather is warm, the sand soft between your toes and the water inviting and crystal-clear blue? Here on Nantucket we may not be able to offer a Caribbean beach but for some, we are still a faraway land that can give the same sense of peace and calm. Did you know that recent studies have shown that just being close to a body of water can promote mental health and happiness? This summer is already shaping up to be amazing—with a lot of local events happening including Nantucket Race Week, featuring the Opera House Cup Regatta.
You'll often see the waters of Nantucket decorated with sailboats traveling through the waves. Nantucket Race Week starts Saturday, August 10th and will go through Sunday, August 18th. Events are scheduled daily and sailors of all levels, from across the country come to participate and compete in the regattas. There are award ceremonies, parties, picnics and tons of community fun. The "grand finale" event of the week is the Opera House Cup Regatta and it's a sight to behold for guests who just want to observe by the shore. This special regatta happens to be the first all-wooden, single hulled classic boat regatta on the East Coast.
In this regatta you'll be able to see some of the finest wooden sailboats in the world! They are all antique boats that have been restored and seeing them lined up along the dock and out gracing the waters is just a sight not many get to see. Spectators can watch the Harbor Start and then can drive to Great Point between noon and 3 pm to watch the boats turn at a race mark in front of Great Point Light. It's a week where the maritime history of the island comes alive and we would love to have you experience it all.
Nantucket in the summer is a paradise for travelers. Whether you are looking for outdoor adventure or a true escape for total peace and relaxation, the island has it all. Our inn is the perfect choice for accommodations—we offer privacy being tucked away just off Main Street but are also close to so many amenities if you are hunting for fun things to do. Book direct through our website for best rates and contact us anytime for further information about our inn or the amazing place we get to call home.