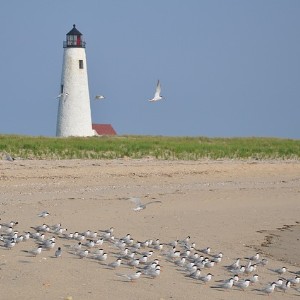 What beautiful summer we've had here on Nantucket Island! If you have yet to make it to our little slice of heaven, there is still time left – summer is not over! Nantucket has so much to offer our guests. Whatever your length of stay, we can help you plan the perfect getaway. We thoroughly enjoy meeting new friends and hosting guests from around the country. Yes, there is an abundance of things to do and see here but often, folks come to truly unplug and escape. Come relax, refresh and reconnect with your loved ones this summer.
Did you know that Nantucket is a relatively small island? It's only about 15 miles by 4 miles. There is an extensive bike path system and the town is perfect for walking, so you don't need to bring your car! If you have never been here before, we highly suggest taking a tour of the island. Nantucket Island Tours is a local company that offers visitors informative bus tours where you can enjoy the natural beauty Nantucket has to offer from the comfort of an air-conditioned bus. See the Old Mill, Sconset Village, Sankaty Head Lighthouse, and a whole lot more. After your tour, you can spend the day being as active or as quiet as you'd like! Some say the best way to truly get the "feel" for Nantucket is by simply strolling around town. There are many beautiful historic homes to check out, boutique shops to peruse, and harbor views to take in. It's a place where you can choose your pace. Have a picnic on a sand dune, enjoy a sunset on the beach, explore historical places. Or, simply retreat at our inn where you will be treated to a luxurious stay in our private suites.
Come to the Island and leave your troubles behind. You'll find a quaint, friendly community, providing the perfect backdrop for travelers looking to relax. Book direct online today for best rates or contact us anytime if we can help plan your next memorable Nantucket getaway.